Big Barra Territory Fishing in the Gulf of Carpentaria
Our Ultimate Adventure charters are tailored to the angler with a taste of exploring very remote locations that are hardly visited and offer world class sport fishing Gulf of Carpentaria key spots.
The Archer, Love and Kirke Rivers are all part of a massive wetlands system in the surrounds of Aurukun some 100kms south of Weipa in the Gulf of Carpentaria. The fishing is consistent and can be outstanding, with most tidal ranges and moon phases offering distinct fishing possibility. This is why FNSF-NOMAD travels over Cape York Peninsula for a handful of exclusive charters in these pristine and fish-filled rivers of the west coast.
You will fly by private charter from Cairns to the remote community of Aurukun and after a short 5 minute drive to the boat ramp, meet with our mothership, Blue Martini, and immediately begin fishing on the Archer River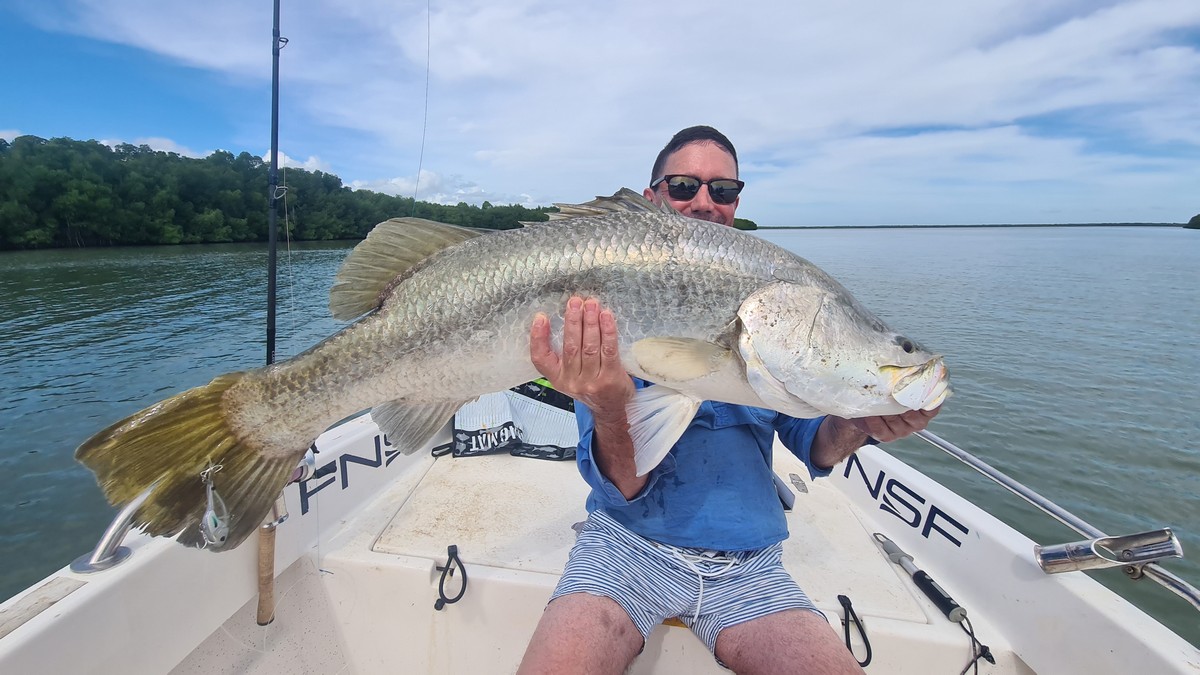 Some of Australia's best fishing while being protected from the strong southeasterly winds
Predominantly river/estuary fishing plus some bluewater fishing
Key areas to include Archer River system, Love & Kirke Rivers, and on selected trips the Jackson, Skardon and Doughboy Rivers
Our 70ft Mothership, Blue Martini provides comfortable twin-share accommodation
Fishing conducted from guided 20ft centre consoles
6 guests are hosted by a skipper, host, chef and private fishing guides
Top of the line Shimano rods, reels and terminal tackle included
All food and non-alcoholic beverages included
7 night trips
Max 6 anglers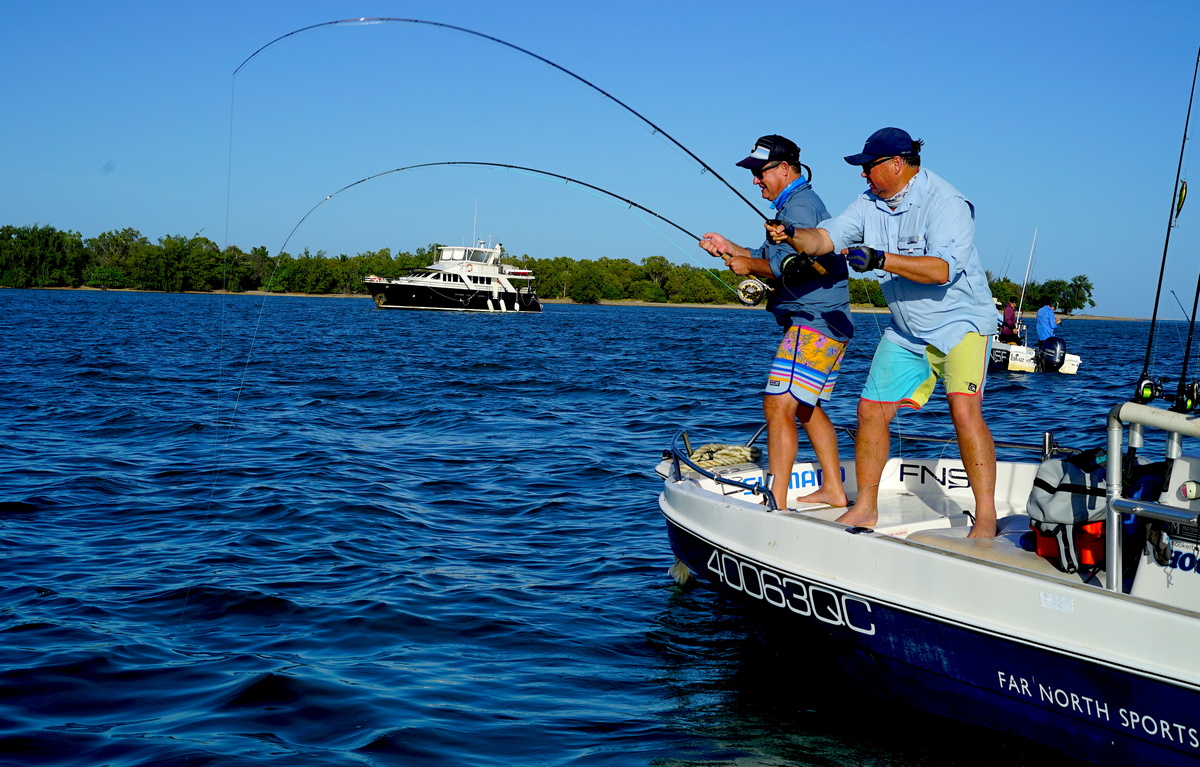 You can book an Ultimate Adventure - Archer River trip as either an individual angler, or you can organise your own group and talk to us about customised pricing options for whole boat bookings.
The Archer River system, along with the Love, Kirke and Jackson Rivers are home to some of the world's best estuary and river fishing .The location on the western side of Cape York means that Aurukun is the perfect winter fishing destination with stable sunny weather and protection from the southeasterlies. After a big wet season the run-off produces more fish than can be believed.
Anglers can expect to target Barramundi, Queenfish, Milk Fish, Fingermark, Coral Trout, Golden Trevally, Cod and more. The fish are ready to take a lure, bait or fly. This charter will also see our clients fishing further south to the Love and Kirke Rivers which are simply stunning flats to chase your fish of choice. Selected trips will also fish the spectacular Jackson River north of Weipa.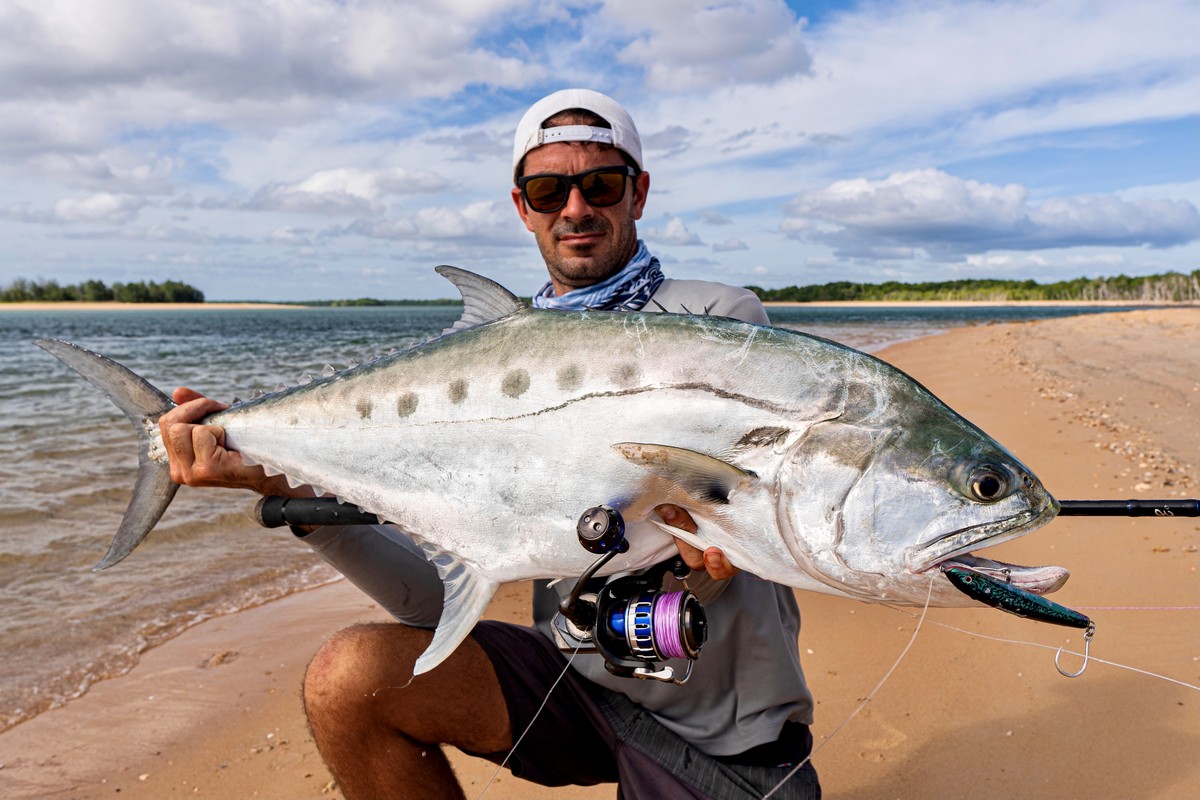 Aside from the estuary and river fishing, this region also offers amazing blue water fishing. The near coastal areas have a huge array of pelagic and reef fish to target including Tuna, Mahi-Mahi, Giant Trevally, Red Emperor, Nannygai, and many more.
FISHING OPTIONS
All Ultimate Adventure - Archer River trips offer you the following fishing options, you can choose to do some or all of the following: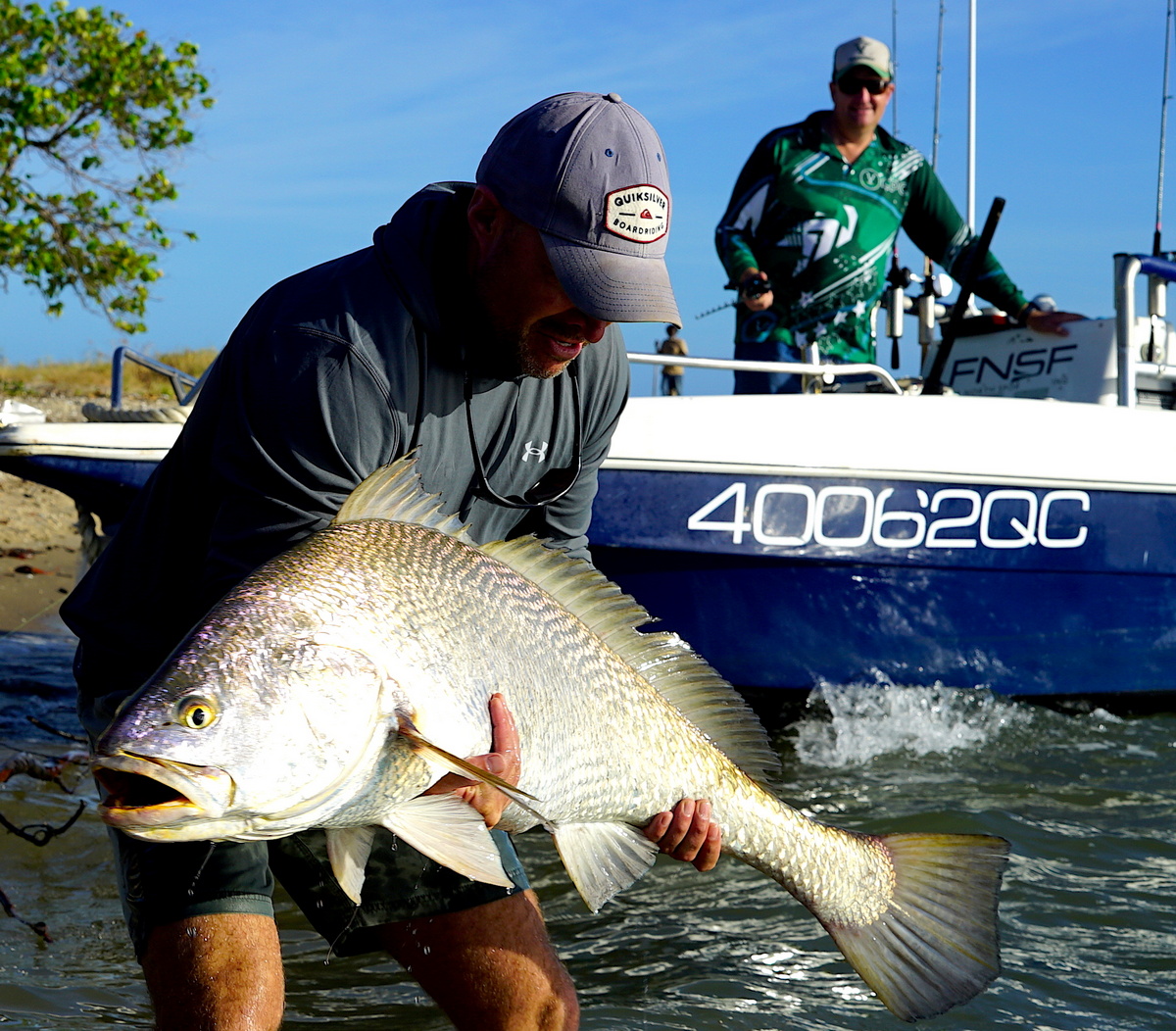 Archer River Trip Itinerary
Our Ultimate Adventure - Archer River trips depart from and return to Aurukun on the west coast of Cape York. This area is accessed via a private charter flight from Cairns to Aurukun and the view across the Cape on the way is breathtaking! Our private charter flights typically depart at around 9am from the East Air terminal at Cairns Airport and return at approximately 1.30pm. This charter flight is arranged by FNSF-NOMAD and the cost is covered by your transfer fee. Selected trips may include a transfer to or from Weipa at either the beginning or end of your trip.
When you make your booking we will send you a full trip itinerary detailing your trip departure and arrival locations, timings and relevant transfer fees.
Sample Schedule (8 DAY / 7 NIGHT)
DAY 1
ARRIVAL DAY
(Half-fishing day)
Depart Cairns and fly to Aurukun where you will meet our crew and be welcomed aboard the mothership Blue Martini. Meals and accommodation provided onboard our 70ft mothership. Half day fishing in the afternoon.
DAY 2 to DAY 7
FISHING DAYS
(6 full days fishing)
Fish everyday in accordance with the tide movement, meals and accommodation provided onboard our 70ft mothership.
DAY 8
DEPARTURE DAY
(Non-fishing day)
Disembark the mothership and board a flight from Aurukun to Cairns (timings vary from trip to trip).
Please download our Ultimate Adventure - Archer River brochure here.