It's very remote, and rarely fished, so you can be sure it's teeming with marine life.
The Ribbon Reefs were the scene of the iconic and groundbreaking video by Malcolm Florence titled "The Great Reef Exploration", filmed in the late 1970s. Back in the seventies, this area was considered the ultimate in remote sportfishing locations – these incredibly remote, pristine reefs that could only be accessed by large vessels with significant fuel capacity.
Excellent GT fishing
Light tackle lurecasting the reef flats for Groupers, Red Bass, Emperors, and much more
Micro jigging and soft plastic fishing the reefs is spectacular
Big Spanish Mackerel trolling the reef edges
Great reef fishing for Coral Trout, Emperor and other reef fish
Yellowfin Tuna, Wahoo and Dogtooth tuna are possible on the outside edge of the reef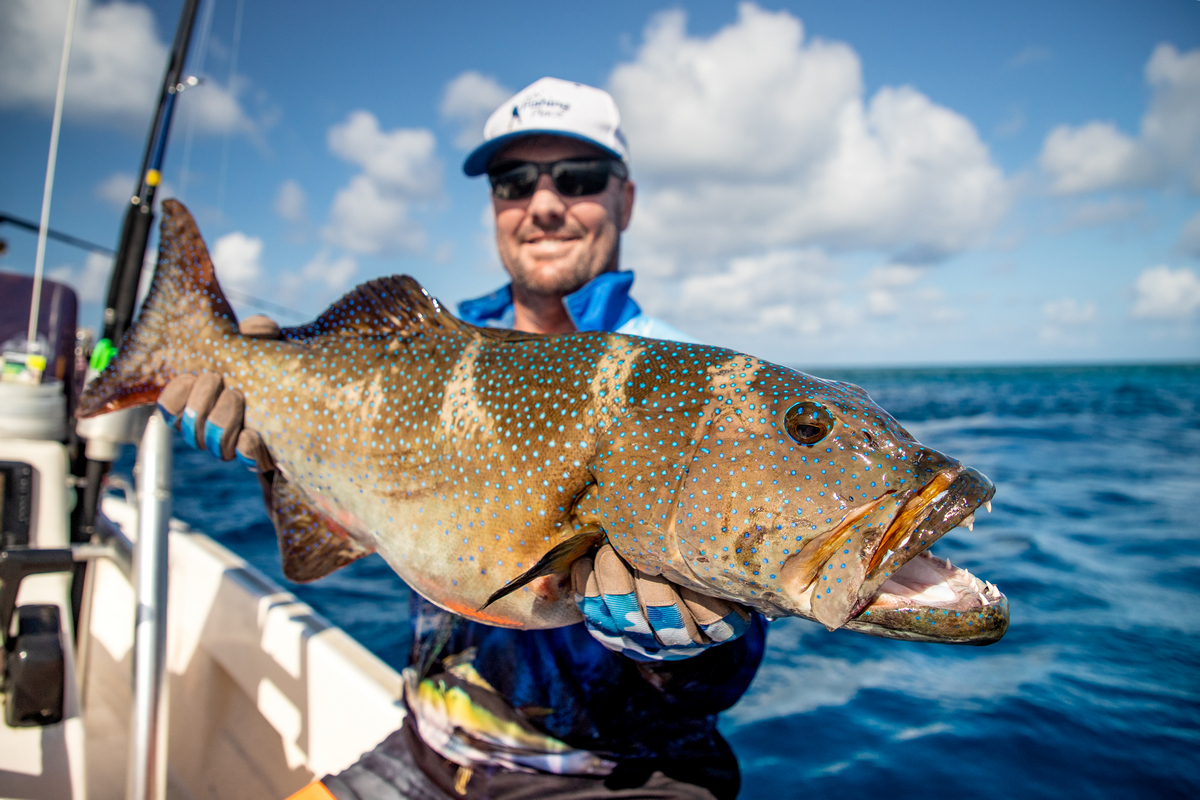 This stretch of reef is home to a massive variety of species, with big GTs, Yellowfin, Coral Trout, Red Bass, Yellowfin Tuna, Wahoo, Sailfish and many other species calling this place home. So no matter what bluewater species you want to catch, the Ribbon Reef fishing is an amazing angling experience.
SPECIES GUIDE
Cast the reef edge for GTs, pull a Coral Trout from a shallow reef or troll the reef edge for big Mackerel, Yellowfin and Wahoo. So many options, the hardest part is choosing what to do on the second day!
Every day, Ribbon Reef fishing brings new possibilities, and with such a variety of fishing styles and species available, this location is perfect for anglers wanting to experience all the possibilities that a remote reef area can offer.
There's plenty of GTs here, and at certain times of the year they are consistently in the 25-35kg range, with the occasional monster fish thrown in. The soft plastic and light jigging around the reefs is spectacular at times, with a mix of reef and pelagic species. The light tackle casting over the reef flats is also spectacular, and expect to lose lots of lures when fishing the reef flats in 2-4m of water.
And then there's trolling for Mackerel, Sailfish, Yellowfin and Marlin.
We'll work our way between different anchorages each day, and you'll fish a large area of reef, meaning plenty of options for different types of fishing along the way.