If you like variety of species and fishing options, Bligh, Log and Ferguson Reef are for you.
The spectacular Bligh Reef locality has an amazing range of species and fishing options. There is great Giant Trevally fishing, with lots of GTs between 10-20kg, and enough seriously big fish to keep you on your toes!
Cast the shallow reef flats with light or heavy spin gear for an incredible variety of species
Troll the outer edge of the reef for huge dogtooth tuna, yellowfin, mackerel and wahoo
Target black marlin while trolling the reef edge
Light and heavy jigging for coral trout, wrasse, emperor and a huge variety of other species
Bligh, Log & Ferguson Reef are frequently visited on our Ultimate Adventure - Portland Roads trip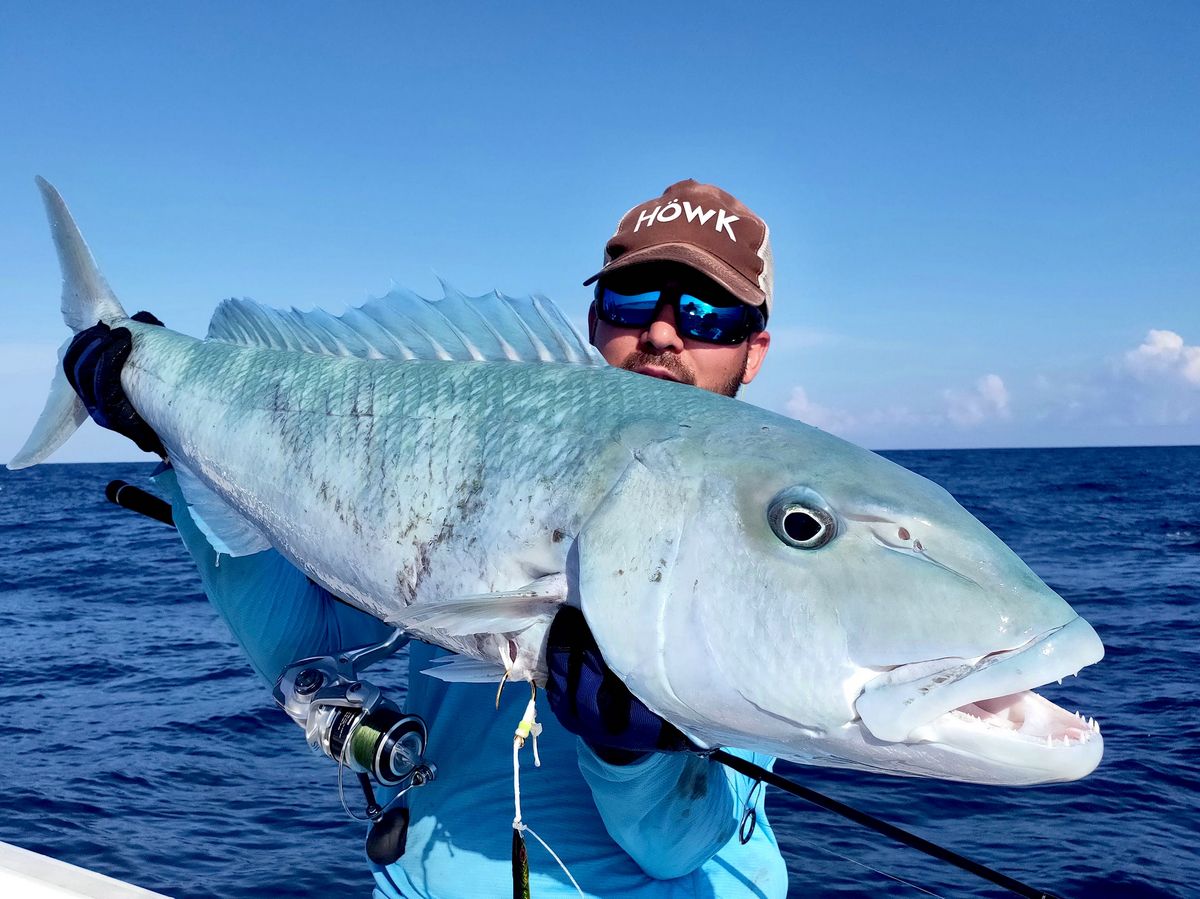 The amazing Bligh Reef is named after the famous captain Bligh, who visited this area on his way to Tahiti. This is one of the most remote areas of Australia, and is rarely visited. The general sportfishing here is simply amazing, and this reef provides the opportunity to combine inshore sportfishing for mackerel, barramundi, mangrove jacks and queenfish, with all of the fabulous bluewater options such as GT casting, lurecasting the reef flats, deepwater jigging, marlin trolling and general bluewater sportfishing.
The types of fishing on each trip are decided by what the majority of guests each week would like to do, so barra fishing may not be available on all Bligh reef mixed group trips. We frequently visit Bligh, Log and Ferguson Reef as part of our 6-7 night Ultimate Adventure - Portland Roads trips.
Bligh, Log & Ferguson Reef are visited as one of a range of locations on the Ultimate Adventure - Portland Roads trips in February to April and late September through to December. The Ultimate Adventure - Portland Roads trips visit a massive area covering over 5000 square nautical miles of reef, and we visit any variety of locations in the vicinity of these reefs on these trips based on weather and fishing conditions.
Although this reef complex is only 85 kilometres offshore, it is still extremely remote. To access these reef locations, you'll board a plane in Cairns and fly to Lockhart River (population approximately 300). You'll be met at Lockhart River Airport and driven by 4x4 bus to the mothership departure point at Portland Roads. We'll fish our way out to the reef, or head north to fish the islands and rivers, depending on guests' choices.
Giant Trevally fishing at Bligh reef can be absolutely spectacular, though you will find the GTs on average to be smaller (10-20kg on average, so still great fish!) than other destinations. But fortunately, there's plenty of them.
The GT fishing, while spectacular, is not the main reason for visiting these three reef locations. Most anglers keep coming back to this area for its huge diversity of species you can catch. You could be walking a sand flat and sight casting to a GT or golden trevally in the morning, and then trolling a reef entrance in the afternoon for a big dogtooth, with maybe a spot of lurecasting on the reef shallows on the way.
Depending on which area we choose to fish, there are beautiful protected islands to anchor behind, rivers teeming with barramundi and mangrove jacks, and then, of course, the spectacular bluewater casting trolling and jigging.
The popular reef species that you're likely to catch include coral trout, red throat emperor, long nose emperor, spangled emperor, red bass, maori wrasse, maori sea perch, bluefin trevally, various species of groupers, green jobfish, big eye emperor, and the list goes on.